About Us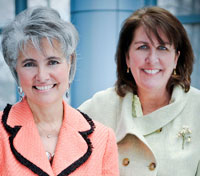 Stephanie Glakas-Tenet and Julie Sussman
September 2012 marks the 10th anniversary of the publication of the New York Times bestseller
Dare to Repair
, the first in the series of four books written by Julie Sussman and Stephanie Glakas-Tenet.
The
Dare to Repair
mission started 20 years ago when Julie Sussman, a mother of two young children married to a CIA officer, found herself writing too many honey-do lists. Her husband Jerry traveled all the time and it seemed that every time he got on a plane something would fall apart in their home. Julie was forced to leave things in disrepair until her husband came home because she couldn't afford to hire a contractor (she had accrued six figures of medical debt) and she didn't know how to do any repairs. Julie had grown up in a household where the chores were divided by gender, so her brother learned how to fix things and she and her sisters learned how to cook and clean. Then one day she met a woman whose husband had just died of cancer at the age of 36. She spoke of how she was forced to deal with all the finances and repairs, both of which she knew nothing. It was an epiphany for Julie -- she realized she could find herself in the same situation. So, she decided she would stop leaving lists and learn how to do repairs herself. But all the do-it-yourself books in the bookstores were written by men for men and not for a female repair rookie like herself. And that's when Julie had another epiphany -- she would write a home repair book for women. But she knew she couldn't do it alone.
A few days later Julie and her husband Jerry were at a friend's barbecue. They were sitting at a table listening to George Tenet talk about how he came home from working on Capitol Hill the day before to find his wife Stephanie straddled on the roof fixing the chimney. George went on to recount the numerous home and car repairs Stephanie had done. They, too, had to watch their pennies and with George gone so much of the time Stephanie, while raising their young son, stepped up by taking care of everything around the home -- from their finances to their furnace. Stephanie's childhood was much different than Julie's. Stephanie's parents wanted her to be as resourceful in the kitchen and laundry room as under the hood of a car or behind power equipment. Stephanie's father bought her a toolbox and taught her everything he knew about home repairs and car care.
Julie knew that night she had met the perfect partner for writing the book. She called Stephanie the next day and the two women agreed that there was something bigger about the project than producing a home repair book for women. There was a mission to teach women, especially those who couldn't afford to hire contractors, to
dare
to do basic home repairs. And once they
dared
to do that, they could
dare
to share their knowledge with other women. And then maybe they would
dare
to do something else in their lives that they hadn't
dared
to do, like go back to school, change careers, tackle personal crises, or impact the world.
Dare to Repair
invites women to step into the world of basic home repairs to become more resourceful and save money, too.
Dare to Repair Your Car
encourages women to take the driver's seat when it comes to maintaining their car to minimize repairs and to stay safe on the road.
Dare to Repair, Replace & Renovate
challenges women to take those home projects that had been on their wish list and move them to their new can-do list.
Dare to Repair Plumbing
(pocket-size) offers women easy-to-follow instructions on the most common plumbing problems.
The authors have co-hosted their own PBS special and have appeared on many other national television shows. The dynamic duo were guests on hundreds of radio shows throughout the years and were featured in countless national magazines and newspapers. Stephanie and Julie were honored to be the spokeswomen for Lowe's, BP, and Habitat for Humanity, International's Women Build Program, as well as partners with the U.S. Military. In addition, they have enjoyed inspiring women across America to save money by doing simple home repairs, basic car care, and easy home renovations through their speaking engagements at government agencies, associations, businesses, and military bases.
The authors encourage you to share your personal story of how
Dare to Repair
helped you
dare
to tackle things in your life (
[email protected]

).
"Rosie the Riveter", also known as the "We Can Do It!" image, created by Pittsburgh artist J. Howard Miller, was chosen as the "cover girl" for their
Dare to Repair
books because of the similar message of encouragement that it sends to all women - "We Can Do It!" For more information on Rosie the Riveter, visit
www.rosietheriveter.org
.